Soybean expeller without GMO
Soybean expeller without GMO
BALANCED PROTEIN AND ENERGY VALUE
Irreplaceable animal feed is the extracted soybean meal. In its production, about 18-20% of soybean oil is extracted from crushed soybeans by solvents (hexane-based compound). After this, most of the used solvent is removed but leaving trace amounts. It must not exceeding the maximum allowed limit (under the Directive 2009/32/EU, up to 30 mg/kg). This resulting soybean meal contains high amounts of proteins (44-48%) and low amounts of oil (1-2%). This is the most widely used raw material in the feed industry.
Heat treated soybean seed "full fat" soya has a high protein content (33-35%), a favorable content of essential amino acids and high energy value (18-22 % of oil). The oil content in some feed formula limits the maximum rate in the recipes.
Due to the high content of anti-nutrients, soybeans need to be heat treated. There are many ways to remove heat sensitive anti-nutrients (Trypsine Inhibitor and Lectin), however, removal of other anti-nutrients, such as Glycinin and Beta-Conglycinin, are possible only by extrusion, which is costly.

SoyProFat has the benefits of extracted soybean meal and full fat soya and provides protection against the above mentioned disadvantages.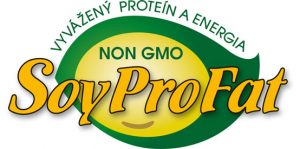 Based on the positive characteristics of extracted soybean meal or other extracted crops (rapeseed, sunflower), the production results are improve and increase the profitability.
SK – Produktovy list SoyProFat

PL – Karta produktu SoyProFat
HU – Termék adatlap SoyProFat
EN – Product data sheet SoyProFat
DE – Produktblatt SoyProFat
CZ – Produktovy list SoyProFat
BALANCEDENERGY AND PROTEIN VALUE
Read more about our other products
Read more about our other products
Do you need more information on our products and prices?
Contact us!